George Plimpton
"Whatever his or her social status, the writer, if good, should have no trouble inspecting a society, however complex, other than his or her own.
— George Plimpton
Born: March, 18, 1927 Birthplace: New York City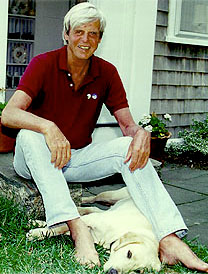 "He was the only honest thing in the country at the time."
— George Plimpton about racehorse Secretariat in 1973.
April 1, 1985:
George Plimpton wrote a story for a Sports Illustrated April Fools joke. It was about a Mets rookie pitcher who had a 168 mph fastball. The piece included faked photos and quotes from actual Mets who were in on the joke.
Books by George Plimpton
Baseball: Four Decades of Sports Illustrated's Finest Writing on America's Favorite Pastime

The Best of Plimpton

Paper Lion

Mad Ducks and Bears/Football Revisited

Out of My League

The Paris Review

Sake : A Drinker's Guide

Truman Capote: In Which Various Friends, Enemies, Acquaintances, and Detractors Recall His Turbulent Career

The Writer's Chapbook: A Compendium of Fact, Opinion, Wit, and Advice from the Twentieth Century's Preeminent Writers

The X Factor: A Quest for Excellence

Collector's Recollections
"I think Truman (Capote) was essentially a very sad person. His stories suggested that, and I think a lot of his bravado, so evident in the later years, was a desperate attempt to hide that fact."
— George Plimpton
George Plimpton Movies:

Good Will Hunting (1997)
When We Were Kings (1996)
Fireworks! The Magic of Pyrotechnics (1995)
Little Man Tate (1991)
Easy Wheels (1989)
A Fool and His Money (1989)
Religion, Inc. (1989)
Volunteers (1985)
If Ever I See You Again (1978)
Beyond the Law (1968)
"The pitcher is the happiest with his arm idle. He prefers to dawdle in the present, knowing as soon as he gets on the mound and starts his windup, he delivers himself to the uncertainty of the future."
— George Plimpton
George Plimpton Links
Go back to
The 'Old' New Journalists
main page