David E. Carlson is a pioneer in the development of interactive news products and is internationally recognized as one of the foremost experts in the field. He has more than 25 years of experience in daily newspaper journalism and is an experienced consultant, university professor, futurist and presenter at international conferences, meetings and symposia.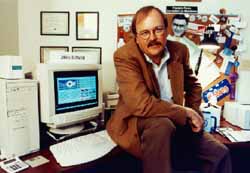 He has been editor, managing editor, design editor, regional editor, copy editor, reporter and photographer on newspapers with circulations ranging from 7,200 to 430,000. He also has been a columnist for national and international magazines, including
American Journalism Review
, and he is a regularly published food and wine critic. He is the author of "The Online Timeline," the Internet's most authoritative history of online journalism, featured in the Nieman Reports from Harvard University.
Carlson is a noted futurist. Since 1981, he has been involved in online media. He has given more than 100 presentations on five continents about online journalism and the future of news media, and he has been called "a pioneer" and the "father of the modern interactive newspaper."
Carlson also is an experienced consultant, having worked with America Online, Apple, Ebay, Microsoft, Prodigy and many others. He has served as faculty at the American Press Institute, the Poynter Institute and the University of Florida. He has taught graduate and undergraduate classes at the university level from 1993 to present. He was national president of the Society of Professional Journalists for 2005-06 and has been listed in Who's Who in America from 2005 to present and Who's Who in the World from 2007 to present.
Carlson is a member of the board of directors of the Sigma Delta Chi Foundation and is a past president of the Albuquerque Press Club and SPJ. He currently holds the James M. Cox, Jr. Foundation/
The Palm Beach Post
professorship in New Media Journalism at the University of Florida College of Journalism and Communications, is executive director of the Center for Media Innovation + Research and is director of UF"s
Interactive Media Lab
.