SONOMA COUNTY, Calif. — There are no grapevines growing in the grassy, tree-shaded plaza in downtown Healdsburg. Instead, the heady scent of Southern magnolias wafts through the air.
Even so, it doesn't take long to realize that wine is a way of life here.
Take Bistro Ralph, a tiny storefront restaurant on the north side of the plaza. A couple of long, wall-mounted shelves traverse the dining room and serve as Ralph's decor, and its open-air wine cellar. They bend under the weight of hundreds of bottles of wine, virtually every one produced within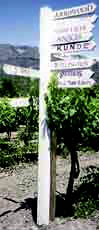 40 miles of here. At every table, a bottle or two is in evidence, and if you listen hard enough to catch a few snatches of conversation, the topic, inevitably, turns to wine.
The talk may be fairly simple, or it may be highly technical. The talkers may be tourists or, just as likely, winemakers and grape-growers from nearby vineyards. After all, three of the most famous wine appelations in the United States meet virtually outside Bistro Ralph's front door. It is here that the Alexander Valley, the Russian River and the Dry Creek Valley, certainly Sonoma's most famous appelations, come together.
This is the beauty of a wine country vacation. You can immerse yourself as deeply as you want in the culture of wine. Without much effort, you can find someone to talk to about "dropping fruit," or "malolactic fermentation," or what makes a "soft tannin," or exactly how the trees are chosen and cut by French coopers to make oak barrels that may sell for $800 apiece.
It seems that most everyone is here for, or because of, wine. Whether it's growing, producing, selling, distributing, barrel-making, or just plain enjoying, wine is the tie that binds in Napa and Sonoma counties.
That makes it a tourist's paradise — as long as you're interested in wine. But you don't have to be a connoisseur or even much of an aficionado to have a good time here. The scenery is just as beautiful and the winery tours almost as interesting even if you don't drink at all.
What sounds more appealing than a leisurely drive along scenic, tree-shaded highways with frequent stops to tour some of the most beautiful chateaus you can imagine? Top it off with a picnic under an arbor in a fabulous vineyard and dinner at a fine restaurant and you have the makings of a wonderful day.
But where to go? On a map, the California wine country looks as if it can be easily traversed in a day. I suppose it can be, but a well-planned vacation will make a great deal of difference in how much time you spend traveling and how much time you spend enjoying yourself.
The first thing to decide is which part of the wine country interests you the most, and the best way to make that decision is to consider which types of wines you enjoy most.
If your primary passion is red wines, especially big, bold cabernet sauvignons and zinfandels, then the Napa Valley is for you. If you prefer white wines such as chardonnay and sauvignon blanc, your best bet is to head for northern Sonoma County where the Healdsburg area produces some of the finest white wines in the world. For fine champagne and lighter red wines such as pinot noir, the Carneros district, an area that traverses parts of Napa and Sonoma counties at the southern end of the wine country, is the place to be.
If all that seems too confusing, you can base your decision on the pace of life.
The Napa Valley is busier, more bustling, more of a tourist destination than is Sonoma. That means you're more likely to fight the crowds, both on the roads and for winery tours, in Napa. You also will usually have to pay a small fee of $3 to $5 to taste the wines at each winery.
Sonoma County is more laid back than Napa. Very few wineries charge for tastings, traffic is lighter, prices are lower for lodging and food, and the traffic is easier to deal with. Sonoma, say frequent visitors to the wine country, is what Napa was like 20 years ago. Whether you plan to visit Sonoma or Napa, advance room reservations are suggested during the busy summer months, particularly on weekends.
My favorite is northern Sonoma County. Healdsburg is a delightful little town of 7,500 on U.S. 101about two hours' drive north of San Francisco. It's not a tourist trap. Instead, it's sort of a living replica of the thousands of small towns we all knew in the 1950s and '60s. The grassy, tree-shaded town square is a gathering place for everyone, and on Sunday afternoons all summer long there are free concerts frequented by locals and visitors alike.
The pace of life in Healdsburg is calm and collected, and there is a wide range of accommodations to suit most tastes and pocketbooks. You can choose from bed-and-breakfast inns in various price ranges, or find a cozy room at the local Best Western motel. The restaurant choices are similarly varied in price and quality, and there's even a local micro brewery. Best of all, Healdsburg is centrally located, meaning that some 70 wineries are within a 30-minute drive. You don't even have to leave town to sample local wines. Kendall-Jackson has a tasting room just steps from the plaza.
If it's Napa you crave, St. Helena (pronounced St. HelEEna) and Calistoga are the best choices for your headquarters. Both are in the 4,000 to 5,000 population range and are on California 29 about 70 miles north of San Francisco.
St. Helena is more centrally located (and I think more quaint), but Calistoga offers hot springs and mud baths for those who are so inclined. Each has plenty of places to stay, but St. Helena and the towns to the south of it, Rutherford and Oakville, have a wider range of restaurants and eateries than Calistoga.
What gives St. Helena its special ambiance is the warmth of the sun-baked stone buildings along Main Street downtown. Some of them date from the 1870s, and they give the town a feeling that Calistoga can't match for me.
When you visit Napa Valley, be sure to get off the beaten path that is California 29, the well-traveled highway from Napa to Oakville, Rutherford, St. Helena and Calistoga. Another highway runs down the east side of the valley, the Silverado Trail, and it's far more scenic and less crowded than the main road up the valley floor. Several "crossovers" are available as you head up the valley.
Wherever you go in Napa or Sonoma, dress is casual except in the finest restaurants, and the summertime weather is likely to be warm during the day and cool at night. It is the cooling, early morning fog that rolls northward from San Francisco Bay that gives the wine country its special, grape-growing climate. Therefore, a jacket or sweater is a good idea for evening and early morning outings.
Winery tours usually are free in both Napa and Sonoma, and most vineyards are open to the public at least from 10 a.m. to 4 p.m. every day. Many of the Napa wineries now charge a few dollars for tastings, but few do in Sonoma. You generally do not have to take a tour to taste wines in the tasting rooms, but many of the wineries are fascinating to tour. Be sure to see at least one facility with caves for wine storage. Beringer in St. Helena is an excellent choice for this.
Many wineries allow picnics on their beautiful, landscaped grounds, and virtually all of them will be delighted to sell you a bottle or more of their wines for your picnic or to take home.
Thanks to the Florida Legislature, however, wineries cannot — and will not — ship wine to Florida residents. It is a felony punishable by a year in jail and a $5,000 fine. This means you can't join the wine clubs that many wineries sponsor, offering to ship a couple of bottles a month at very reasonable prices. But there is no law to prevent Florida residents from shipping wine to themselves. If you find wines you want to buy, snap them up and stop off to ship them to yourself in the cities of Napa or Sonoma on your way back to the airport. At least a dozen other states have similar laws, so check before you travel.
David Carlson is a wine lover, food writer and director of the Interactive Media Lab at the University of Florida's College of Journalism and Communications. This story was published June 22, 1997 in the Gainesville (Fla.) Sun