Debauchery and Football: A Gator Tradition


The madness had come to town. They started spilling into the community early on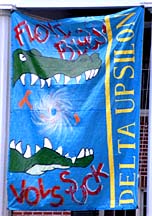 Friday, giving the place a feeling of density and pressure. Different factions roamed the streets in groups for safety. There were sneered threats and promises of revenge. Something serious was about to unfold. So serious that the police had erected barricades and the news media had warned the public. The tension was palpable. The universities of Florida and Tennessee were going to play a ball game.
College football is taken seriously at Florida. It controls the pulse and the soul of the university. It amuses some, bewilders to others, and becomes addictive to a frightening few. More studious types are disgusted at the hold it has over academic life. They can't believe, for example, that classes would be canceled for homecoming or that students would be hustled out of their parking spots early on Friday to make room for rich alumni ...
Read this story


City of Evil



In the early 1800s, a small village called Boggy was settled in the panhandle of Florida. It was named after the Boggy Bayou, the sandy-bottomed bay where mullet, the soil-sucking ...
Read this story


An Encounter with Tommy Latino



Approximately 1,140 miles away at a country home in small, sylvan Rockford,

Ill., Tommy Latino paused behind his wooden garage door. He paused because he didn't know whether leaving for Florida was worth ...
Read this story


They All Want Charizard



It's just a bookstore not unlike thousands of others across the country. The bestsellers are stacked high at the front and there is a coffee bar to the side. You know, where you can buy caffe latte, double mint mocha ...
Read this story


Hunting the Whipped-Cream Bikini


I went to Calico Jack's Oyster Bar and Seafood House — CJ's to the initiated — for a Monday Night Football Bikini Contest with no preconceived expectations — or at least no other expectations than the night's ...
Read this story


'Tis The Season To Be Sick



It all began with a little kiss.
How was I to know after a transcontinental flight and two hour car ride home that my traditional welcome home kiss and hug would be tainted ...
Read this story

What Better Character in Life is There Than the Self?


Note: Anyone can develop a mental illness. You, a family member, a friend — anyone. Some disorders are mild, while others are long lasting. These conditions can be helped. One way is with psychotherapeutic ...
Read this story


Passing the Marriage Test



Born and raised a Baptist in the South, my mother was taught a strong Protestant ethic that she hoped to instill in her own children some day. That ethic also made her wary of Catholics and their ...
Read this story


Shakedown Street



The pungent scent of marijuana and clove cigarettes drifted sweetly through the lingering smell of gasoline from sputtering Volkswagen engines and mingled with the red Georgia clay dust to settle on my lungs ...
Read this story