Why Be A DJ?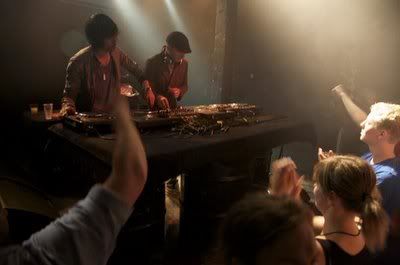 It almost seems ridiculous to answer this question. Really you should be asking yourself, "Why not?"
Of course, there are the obvious pluses; the awe-factor, the parties, the party-boys and girls, the ass-kissing. But there is more to it than that. This is an artform, an expression, a way of life.
Do you think you've got the taste in music to get the club bumpin? Do you think you've got the timing to match beats at +130bpm? Do you think you've got a taste for the nightlife, the passion to spend hours and days of your life, jamming out by yourself in your room, pissing off the neighbors with your killer bass drops? Do you think you've got what it takes to be a DJ?
What To Expect
You're not going to learn the essential skills overnight. It takes time to beatmatch and learn what sounds good together. Not to mention the hours of cataloging and song mapping you'll be doing before you can even get started. But you shouldn't give up because practice makes perfect, and the end result is more than worth it.
Don't go at this expecting to find a new day job. Very few djs are able to support themselves financially with their djing alone. And on top of that, they have to spend a lot of time and money on their craft. Unless you own your PA system, you'll always have to rent one when doing a function (although clubs usually have their own), and those can be very hefty fees. And you'll have to buy your turntables and mixer to get started, plus whatever software you're going to use and special effect plug-ins you want to buy to enhance your experimentability.
And as far as practice goes, hopefully you really love the music, because you're going to need to practice for a couple months before you're really any good, by dj standards. And just to find the right music you're going to have to sit and listen and study for hours! You'll doubtless have to listen to a lot of crappy tunes before you find the ones you really love. But digging does have it's sweet rewards. Imagine being the first dj to spin the next big thing!
The Lingo
You should be aware of some basic lingo before you get started. After you've mastered these terms, you'll be able to better understand the tutorials, as well as mingle with other DJs without looking like total weaksauce.
BPM- Beats Per Minute. This is a numerical indication of the speed of the song.
Beat Match- This is when a dj sets two songs to the same bpm, then matches the downbeats to ensure that, when both songs can be heard by the audience, the transition between them will be as seamless as possible.
Backspin- This is the term to describe when a dj spins the record backwards, warping the sound.
Crossfader- This is the little sliding mechanism along the bottom of the mixer that allows for volume control of each track.
Cueing- A dj must choose a point in the track at which he would like it to start playing. This allows the dj to skip over low points in the song, or to find the bext part for mixing into. This point is the cue.
Scrathcing- This is when a dj moves the record back and forth under the needle, creating the oh-so-familiar scratchy sound! Very popular when mixing hip-hop tracks.